Pretty Macbook Covers for 2018
Filed under:
design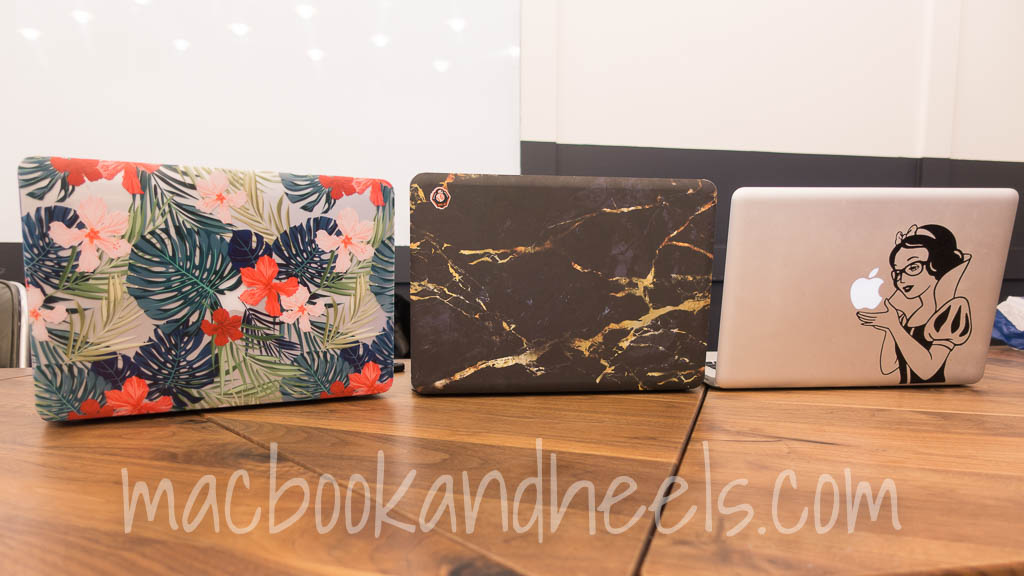 In case you're shopping for Macbook covers to start off a new year with a new look for a new you, this post is totally relevant.
I've selected a few beautiful designs to share below, these selections of Macbook Covers that are feminine and trendy, yet for those of us who work amongst adults, won't feel that these are too young.
Floral is a classic feminine print, and you can go with a more tropical one like the one I have in the header image above I took at a Women Who Code event, or a more timeless rose print.
This is pinkish purple rose print on black is great, particularly if you're one to switch between casual jeans wear and more fancy all black outfits. Rose prints are quite timeless for all ages, tho it definitely is more traditionally feminine and thus pairs well with traditionally feminine silhouettes.
Boho chic is also timeless, and in a teal color such as this below it can serve as a reminder of the blue skies and gorgeous ocean colors outside.
This print is great if you're someone who likes to wear leggings for yoga or lose comfy clothes. Maybe you're someone who likes to be reminded of calm energies. This is great for those seeking a bit of personality without feeling constrained.
Marble was trending in 2016, and now two years later is still trending. Why not, when it is such a subtle texture in timeless monochromatic colors?
This is an upscale and subtle look that can go great in formal/business settings as well as even casual chic places.
Last but not least, cats and computers go together like coffee goes with cream =) A classic combo if there ever was one and not limited to women. The sticker for this design can be applied in any direction, offering you an ability to give your illustrated cat some personality.
Outfit pairing for this type of print goes with any, really. Personally, my preference would be that the simpler and more casual the better. Love for cats can come down to loving personality so dress down to let your personality shine!